Jackie and Bobby explain why God gave us his only son, and how we can celebrate this enormous gift.
For Catholics, Christmas isn't just a one day celebration of gifts and decorations. Instead, it's a celebration of the incarnation of God become man, and begins the Christmas season in the Church. It's a time to recognize that God sent his one and only son to be with us on earth, so that we can spend eternity with him in heaven.
It's also a great time to think about our own lives and what the incarnation has brought us. Christmas is a celebration of light breaking through the darkness of the world, opening up the possibility of eternal life, and introducing a joy that we could have never known without Christ. Think about what your life would be like if you had never experienced God… if you had never witnessed Christ in your life. How can we celebrate this gift and this capacity for joy each day?
No one ever imagined that our Savior would come out of Nazareth, or that he would be the son of a simple carpenter. Who are the people in your life who you've written off, or don't see Christ in? Pray for them this Christmas, and all year long, that they may come to know Christ to sainthood, and share him with all they meet.
---
Meet Jackie and Bobby Angel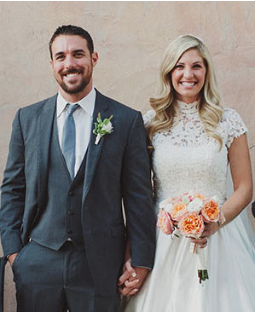 Jackie Francois Angel is a full-time worship leader and speaker. Bobby Angel is a campus minister and theology teacher at a Catholic high school. Married in 2013, they have four beautiful children and strive to grow in holiness each day!