Jackie Angel talks about how we can become comfortable with being uncomfortable.
For many of us, it may feel like Lent never ended. It was during Lent that COVID broke into our lives, and since then, we've seen everything around us change and become dramatically different than what we're used to. All of us sacrificed something during the pandemic, and—especially during this Lenten season—it can feel like we have nothing left to give. But with these sacrifices come greater opportunity for grace, and that's worth diving into.
The pursuit of pleasure and the avoidance of pain is a human inclination we all have. It's not natural for us to embrace suffering, which is why we need supernatural grace to carry our crosses. And the saints have shown us time and time again that when we are in need of grace, God always delivers. Whether it's in decision-making, temptation, or extreme persecution, the Lord is always ready to give us the strength and courage to move closer to him. 
Looking for a book to read during Lent this year? Check out Dr. Edward Sri's book, No Greater Love: A Biblical Walk Through Christ's Passion.
Ascension is proud to partner with authentically Catholic institutions and organizations committed to spreading the Gospel. Learn more about the sponsor of this video, Ave Maria University.
---
Meet Jackie and Bobby Angel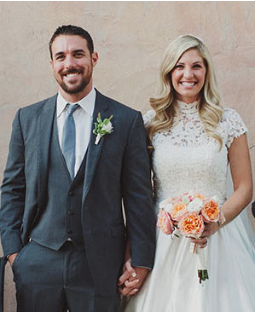 Jackie Francois Angel is a full-time worship leader and speaker. Bobby Angel is a campus minister and theology teacher at a Catholic high school. Married in 2013, they have four beautiful children and strive to grow in holiness each day!