Sometimes when we have difficulties in prayer, we forget that everyone experiences these difficulties, even religious. Mother Clare joins Fr. Mark-Mary to encourage you to persevere through the dry or dark times in prayer. 
No one who prays, not even religious, are strangers to spiritual sloth—those times when the graces of prayerfulness and fidelity just aren't flowing and prayer just seems like a chore. In these times it's important to remember that some of the most beautiful truths can only be learned through spiritual desolation. These bland moments in prayer are opportunities to strengthen our spiritual muscles in ways other things couldn't. 
Another helpful tip Mother Clare and Fr. Mark-Mary share is that when there are distractions in prayer, just continue to turn your gaze back to God no matter how often you are distracted. Maybe even bring the distraction to God and ask if he is trying to speak to you through it. 
Keep being faithful. Prayer is a gift. Keep on asking for the grace of prayerfulness and fidelity and you will persevere in building a strong relationship with the Lord. 
Also check out these products on prayer from Ascension:
---
Meet Fr. Mark-Mary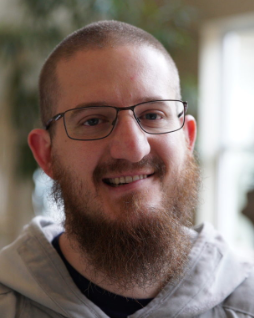 Father Mark-Mary was ordained as a Franciscan Friar of the Renewal (CFR) in 2018 and lives at a friary in the Bronx.
The mission of the CFRs is to wholeheartedly embrace Jesus through fidelity to the Church and her Sacraments. Paired with their commitment to prayer, contemplation, and study of Sacred Scripture, the CFRs serve those around them, especially the poor, in the footsteps of Christ.
Discover beautiful music from the CFRs here.