Who among us doesn't want to influence our significant other? And this is not always a bad thing! We want good things for our husbands and we want them to become all that God has planned for them to be, and so we … nudge, nag, suggest, and criticize.
But these are not great ways to communicate.
Let's talk about some ways you can communicate with your husband to unite you both in common goals, instead of dividing you.

Snippet from the Show
"Whatever your goal is for your husband, it's not a greater good than him knowing that you love him and accept him."

SHOWNOTES

1) Make a deal.

Especially for smaller topics, this can be a light-hearted way to encourage and motivate your husband to do something you want by doing something HE wants in exchange. Make a deal! Tell him if he brings the boys to soccer practice tonight, he can sleep in while you cover rides tomorrow morning. This is especially helpful in encouraging you to consider your husband's perspective, instead of only your own.

2) Find out what he wants.

You know what your goals are for your husband, but do you know what his are? With his health, work, parenting, or spiritual life? Ask him about what his goals are and then look for ways you can support him in achieving them.

3) Ask, don't tell.

Don't tell him what to do. Ask his opinion of various things. What do you think about that men's group at our parish? Would you ever enjoy camping with the kids? What is your idea of fun Saturday afternoon? What are some ways you would like for us to spend time together?

4) Be aware of your tone.

Sometimes our "hidden agendas" have a way of coloring what we say, even when we don't mean for them to. Be careful when approaching your husband about a sensitive topic and know that he might feel insecure about some of the ways he knows you want him to change. You might just need to focus on building him up and reassuring him of your unconditional love first.

5) Set the example.

Ultimately, you can't control what your husband does or doesn't do, but you can control yourself. If you want him to do certain things, like going to daily Mass, eating healthy meals, or taking the kids hiking, go ahead and do those things yourself. Allow him to feel the gentle nudge of your positive example with your having to nag or cajole him into doing what you want.

6) Know that you might be wrong.

Your agenda for your husband might not match up with God's plan for his life. Humbly accept that you don't have the "perfect plan" for your husband.

7) Pray.

Pray to know God's goals for your husband and the ways in which you can support him. Pray for your husband as well, and offer sacrifices for his benefit. Put your money where your mouth is! Offer up something for your husband's benefit.


RESOURCES
You Are Enough: What Women of the Bible Teach You About Your Mission and Worth, is available! Use the code, GIRLFRIENDS to receive ten percent off your order.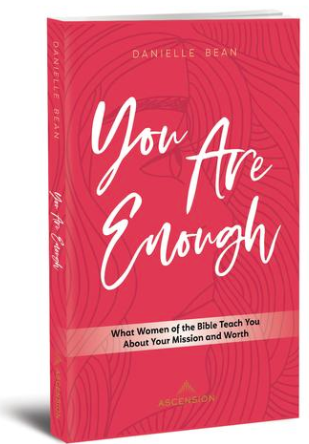 EVENTS
July 30-August 2: Catholic Marketing Network in Lancaster, PA
Saturday, November 16, 2019:You Are Enough Retreat at Holy Family Catholic Church in Orlando, FL
Saturday, January 11, 2020: You're Worth It Retreat, St. Michael Church, Exeter, NH
Saturday, March 7, 2020:You're Worth It Retreat at Precious Blood Parish in Jasper, IN
Saturday, March 28, 2020: Women's Conference in Norwich, CT
Want me come to your community to speak or give my retreat, You Are Enough, based on the themes in my newest book? Get all the information here!
SUBSCRIBE
CONTACT