In this episode we talking about spiritual pruning and how its a difficult part of the process, but necessary to bring about growth and good fruit.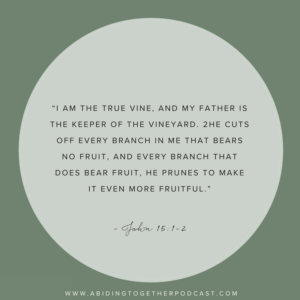 One Thing We Love This Week:
Sr. Miriam's One Thing – Safe
Sr. Miriam's Other One Thing – Beyond The Blue
Michelle's One Thing –  Print from Katie Fitzgerald – Sr. Miriam quote
Heather's One Thing – Lifepoint Worship "Closer"
Discussion Questions:
What areas in your life is God pruning or wanting to prune right now?
Fruit can be good or bad. What are the fruits that are growing in your life?
What areas do you need to let God shift your perspective that you are not a victim, rather you are a "strugglers" and with God we are "overcomers"?
Journal Questions:
What areas do you distrust that God has your good in mind?
What are the motives behind the choices you make in the big areas of life?
What areas do you need to repent and begin again?
Quote to Ponder:
"I am the true vine, and my Father is the keeper of the vineyard. He cuts off every branch in me that bears no fruit, and every branch that does beat fruit he prunes to make it even more fruitful." – John 15:1-2
---
Meet Your Hosts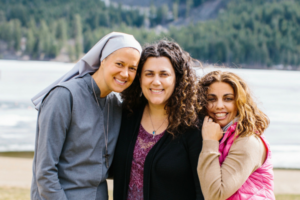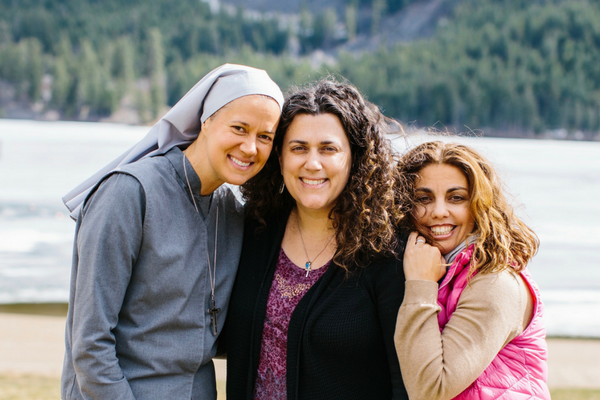 Abiding Together is a weekly podcast hosted by Michelle Benzinger, Sr. Miriam James Heidland, and Heather Khym.
If you would like to contact the ladies of Abiding Together, email: abidingtogether@ascensionpress.com.
Get your favorite Ascension content sent right to your email!