Fr. Josh answers questions on mortification practices, converting to the Catholic Church, and hearing God's voice.
Snippet from the Show


"Stop focusing so much on the response of your desires and your questions and focus more of your prayer on the face of Jesus."
---
Shownotes
Glory Story (2:40)
Feedback (4:17)
Mortification (5:32)
Fr.Josh,
Love the show! I'm a Midshipman at the US Naval Academy and I often turn on your podcasts while I run. It gives me something to prayerfully think about as I work out. I've recommended your show to some of my Catholic friends here and they've really enjoyed it too! My question is on mortification of the body. Fasting and abstinence are one thing, but what's your take on some of the less common mortifications? The cilice, hairshirts, and self-flagellation are all techniques Saints once used to enter into suffering with Christ, but they seem to be less common today. Should we, in modern times, replicate these practices in imitation of the great Saints who once did them? And if so, what level of mortification is spiritually healthy?
Thanks again, and God bless.
– Andy
Converting to the Church (12:15)
Hi Father,
I've listened to a few episodes of your podcast and if possible I would like to submit a question of my own, I really don't know how to phrase this question, so I apologize if this is confusing; I haven't been a believer for the majority of my life and essentially everyone I know isn't a christian either (with many of my good friends being atheists). I believe that many people I know won't be willing to associate with me anymore if I follow the lord and join the church, and among those who won't really distance themselves from me I don't believe many would be very accepting of my faith. I know that my question is very vague and hard to answer but how do I join the church/become a christian when nobody around me would accept that choice?
Thanks in advance and may God Bless you,
-Danny
Hearing God's Voice (18:56)
G'day Fr Josh,
First of all, please pray for my wife, to return to the Faith. She is talking about coming to Mass with me on this Sunday which will be the first time she will have done so in two years. Anyway, one of my wife's objections to the Faith is that God ignores her or just doesn't respond to her. I've suggested to her that just isn't true at all. She's asked me to prove my point, and I don't know how to. In fact, it gets me thinking of this: How do I know that when I pray that I am actually listening to God rather than to myself and my own impulses? How can I discern what is truly the voice of God as opposed to my own thoughts and desires? How can I be sure that I am not deluding myself when I pray?
-Sean
Resources:
---
Meet Fr. Josh Johnson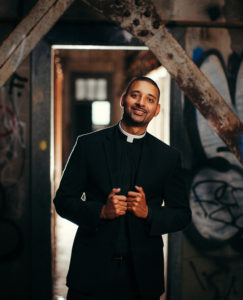 While Fr. Josh was raised Catholic, he didn't like the Church growing up. Then, one day in adoration, he fell in love with Jesus and received the call to become a priest.
Now, Fr. Josh is the Vocations Director of the Diocese of Baton Rouge in Louisiana. He is a presenter in four of Ascension's programs: Altaration, YOU: Life, Love, and the Theology of the Body, The 99, and Connected: Catholic Social Teaching for This Generation, as well as the author of Broken and Blessed: An Invitation to My Generation, Pocket Guide to Adoration, and co-author of Pocket Guide to Reconciliation.