In this episode we discuss chapters 2 & 3 of "Gaudete Et Exsultate (Rejoice and Be Glad)" by Pope Francis. We talk about our tendencies to fall into judgmentalism or self reliance and how these creep into our spiritual life. We also talk about the beauty of the Beatitudes and our call to get honest with ourselves about our pride and embrace poverty of spirit so as to fully live the Christian life and embrace grace more fully.
One Thing We Love This Week:
Discussion Questions:
Do you tend to struggle more with an intellectual approach to your spirituality that leads to judgment or with acting more on your own power and not relying on grace?
What is your favorite Beatitude and why?
What do you think about when Pope Francis says "the Beatitudes are like the Christian's identity card"?
Pope Francis says we can only live the Beatitudes with the power of the Holy Spirit. What is one Beatitude that you need the power of the Holy Spirit to help you live today?
Journal Questions:
What holds you back from loving the poor in a personal way?
Who do I need to show mercy to this week?
How is my life working for other people?
Quote to Ponder:
"Yes I have many human faults and failures…But God bends down and uses us, you and me, to be his love and his compassion in the world; he bears our sins, our troubles and our faults. He depends on us to love the world and to show how much he loves it. if we are too concerned with ourselves we will have no time left for others" – St. Teresa of Calcutta
---
Meet Your Hosts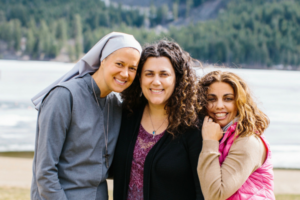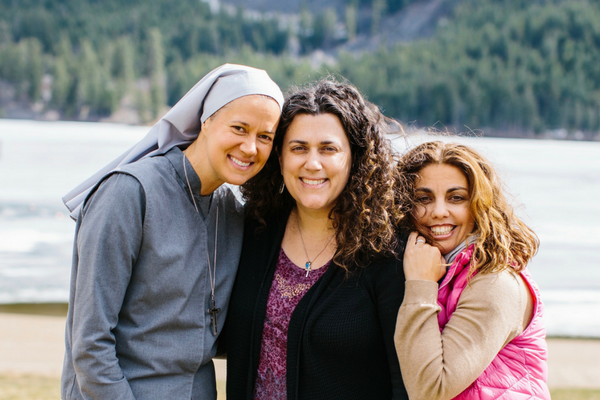 Abiding Together is a weekly podcast hosted by Michelle Benzinger, Sr. Miriam James Heidland, and Heather Khym.
If you would like to contact the ladies of Abiding Together, email: abidingtogether@ascensionpress.com.
Get your favorite Ascension content sent right to your email!